Saturday 28th July to Saturday 4th August
This year we are camping at one of our favourite sites: Westover Farm, near Charmouth in Dorset. The nearest village is Wootton Fitzpaine and the site is two miles walk to Charmouth Beach, along a path beside the little river which flows along from the bottom of our field. There are woods nearby, and many gorgeous walks in the area.
About Camp
Camp is a marvellous opportunity for children and adults to live together as part of a community in natural surroundings. People of all ages and circumstances are welcomed, with or without partners or children.  All share equally in camp life, including games, walks and camp fire, as well as essential jobs such as cooking, washing up, making cocoa or emptying the loos.  In between these there is plenty of time to sit in the sun (or rain), talk or simply relax.  Each camp has a different range of activities, depending on its location and the interests of the campers.
Daily meetings for worship are held mid-morning and again around the evening campfire. Camp elders steer these meetings, and facilitate daily discussion groups.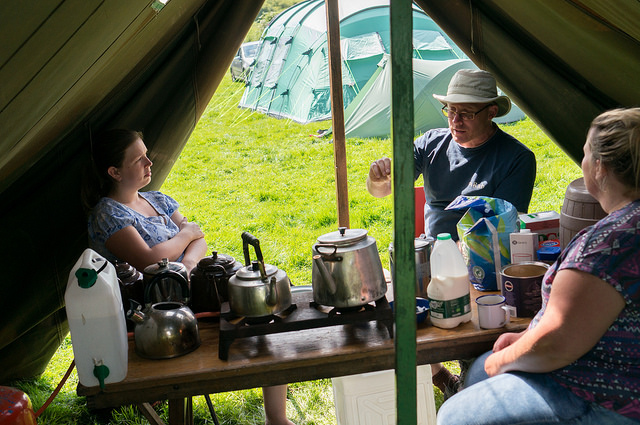 How does camp operate?
Camp is a community, powered only by the effort of those attending it.  Support is required from all campers before, during and after the actual event so all assist wherever they can: helping out at camp repair day, camp committee meetings, loading and unloading the lorry and doing their fair share of jobs at camp according to ability.
Camp equipment is shared with Gloucester Area Meeting (who will follow after us at Charmouth, 4 th to 12th August, this year). A marquee, gas stoves, elsan and eco-loos, tables, chairs, crockery and cutlery are provided.  There are a small number of spare tents to borrow but if you have one, please bring your own.
For more information, click here
For the Camp Booking Form, click here
---
Gloucester Area Meeting Camp: Saturday 4th August to Sunday 12th August
Alternatively, Gloucester's is usually a smaller camp than Bristol and they welcome campers from further afield who might prefer the smaller size or find those dates fit better. Please contact Martin Quick: 01543 764553 for more information.
submitted by M-J Thornton