Greetings and best wishes for the year ahead  to Friends/friends at Redland from distant Members Lee and Derek. After over 15 years at Redland, we moved three years ago and  we sometimes miss Bristol but are loving our new life in Penryn in  Cornwall. Derek is busy at the University and I am involved in lots of art and community activities.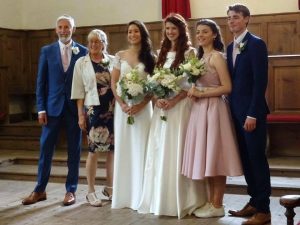 It was lovely to see some of you and have your support  at our daughter Jessica's wedding back  in Frenchay Meeting House in  2016. She and Claudia are very happy.
There is winter sun and soon wildflowers at the charming old Come-To-Good Meeting  House in Cornwall  where we often go.
Holding you all "in the Light". Do get in touch if down this way.
Yours in Friendship
Lee&Derek Kellgren-Hayes
lee@lee-kellgren.co.uk