Last year Gaie Delap made a beautiful wreath of white poppies and placed it quietly at the Bristol City Centre Cenotaph after the formal Remembrance Day commemoration was over. Somewhat to her surprise, it remained in place for a full year. This encouraged her to repeat her symbolic peace statement in 2019 – this time hoping to achieve a more prominent place for our Quaker peace testimony in a civic ceremony with many possible meanings.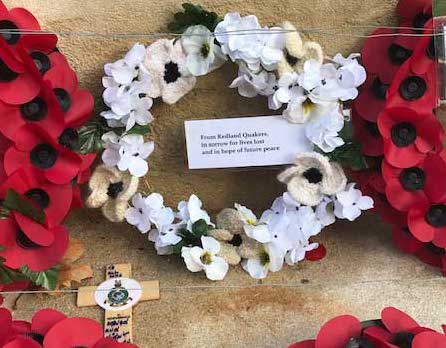 Our Local Meeting for Business gave its support to the placing of a white poppy wreath, so Gaie and I entered into correspondence with the Powers That Be in an attempt to achieve formal inclusion. We wrote to the British Legion and the Lord Mayor of Bristol, before receiving our final answer from the Army officer in charge of ceremonial. The friendly British Legion hoped our request would be accepted. The Lord Mayor's office raised several practical obstacles, but no objection in principle. The briskly polite Army officer gave us official permission to lay our wreath after the ceremony, and said we would be considered for fuller inclusion next year.
So on 10 November we made our way to the City Centre and watched the Remembrance ceremony with mixed emotions. The crowds were impressive, the procession of uniformed military, cadets and veterans was large and well-drilled, and the City's political and religious leaders followed in their best finery (and a historic selection of funny hats). The Lord Mayor arrived in a horse-drawn carriage, escorted by mounted police. As the sun shone, guns were fired to start and end the two-minute silence. Then speakers from different faith traditions gave inaudible speeches, a hymn was sung, and prayers were said. Three cadets had fainted by the time we got to the concluding National Anthem.
Gaie and I stepped up to deliver our Quaker wreath as soon as the crowd control barriers were removed. It felt worth doing. But we agreed afterwards that we always find Remembrance Day a trial. Perhaps it is a necessary education for us to engage with the military and to see the extensive support for the Armed Services which apparently still exists in Bristol. Perhaps grieving for the war dead and celebrating the military do not have to go hand in hand. Possibly other spectators had as many mixed feelings as we did ourselves.
Julia Bush